2020 Year In Review
Happy New Year! Though COVID-19 has shifted the economic landscape of the world, activity is high in retail investments and the capital markets, more broadly. Read on for a summary of the changes we saw this year and expect to come.
A Word From DealMaker CEO:
Despite COVID-19 and US political turmoil, the capital markets have proved resilient. Capital markets technology is emerging as a leading fintech sector and our team is excited to be building the technology to power the capital markets of the future, and keep entrepreneurs funded.
DEALS
Deals
We saw an explosion of private placements during 2020. Despite uncertainty in the markets, the number of issuers raising on DealMaker continued to rise.
Over 15,000

investors signed on DealMaker

in 2020
Over US$182 million

C$92 million and

A$1 million

raised on DealMaker

in 2020
NEWS
Reg A+
$1.3 B

raised between July 1 2019 and June 30 2020

Maximum offering amount under Tier 2 raised from

$50M to $75M
Maximum offering amount for secondary sales under Tier 2 raised from

$15M to $22.5M
Rule 504 of Reg D
$171 M raised between July 1 2019 and June 30 2020
Maximum offering amount raised from $5 M to $10 M
Direct Listings
The SEC approved direct listings on the NYSE— allowing companies to issue new shares and sell them directly to the public on the first day of trading without an investment bank underwriting the offering.
Expected Impact?
The combination of these changes provides a clear pathway for issuers to raise significant capital from retail investors from seed to growth stage, and now going public.
We expect to see more and more companies using this pathway to growth, and new and innovative companies being funded by retail investors. This could be a very strong avenue for economic recalibration after COVID, as these companies are typically retail, consumer-facing brands.
With enhanced marketing feedback loops and integrations, we expect to see stronger retargeting campaigns in 2021, resulting in more capital being raised with fewer dollars spent.
NEW FEATURES
New Features
DealMaker introduced a number of revolutionary new features for our deal and enterprise clients, continuing to lead the global markets as the only internationally compliant technology solution.
Digital Payments - Credit Card and ACH
New digital payments enable credit card and ACH payments for convenient and instantaneous payments directly.
White Labeling
White Labeling enables issuers to design custom branded portals to deliver investors an experience that keeps company branding front and centre.
WHAT CAN BE CUSTOMIZED?
| | |
| --- | --- |
| | Deal Domain |
| | Header Logo |
| | Footer Logo |
| | Contact Info |
| | Login & Password Change Pages |
Webhooks
Keep your marketing or client CRM systems up to date with the most current DealMaker information on investors from your deal. Issuers can now automatically import investor data and details from their deal to their personal database.
WHAT INFORMATION IS INCLUDED?
| | |
| --- | --- |
| | |
| | |
| | |
| | |
| | Status (Draft, Invited, Accepted, Funded) |
PARTNERS & EVENTS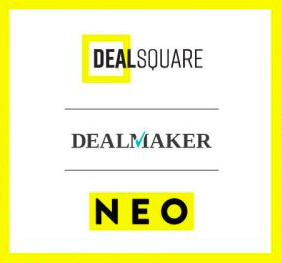 DealMaker, DealSquare, and NEO Launched New Partnership for Enhanced Private Placement Offerings
DealMaker, DealSquare, and NEO announced the launch of a new partnership to provide a comprehensive private placement solution for issuers, dealers, advisors, and investors - a solution that is both fully digital and global in reach. We will be co-hosting a webinar on MedC - the first ever raise through this joint offering. Join us this Thursday January 14th at 1:00 pm EST.
LD Micro Main Event
DealMaker CEO, Rebecca Kacaba, spoke at the 13th Annual LD Micro Main Event this year. Rebecca discussed the future of Reg A+ and Reg D capital raising and how technology is transforming the raising experience for issuers and investors.
Are you ready for DealMaker?
If you're ready to take advantage of the groundbreaking DealMaker platform, get started with a demo today